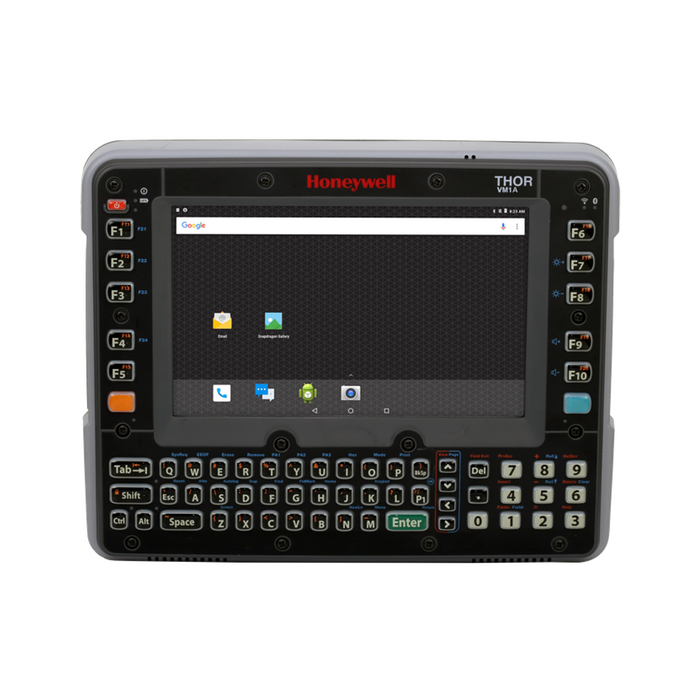 Honeywell Thor VM1A (VM1A-L0N-1A6A20F)
SKU: VM1A-L0N-1A6A20F
HONEYWELL, VM1A, OUTDOOR CAPACITIVE, ANDROID ML GMS, CLIENT PACK, 4GB, 32GB, 802.11ABGNAC, INTERNAL WLAN ANTENNAS, BLUETOOTH, FCC
Honeywell Thor VM1A Vehicle-Mounted Computer

Forklifts and vehicle-mounted computers are essential tools in the day-to-day workflows of warehouses, manufacturing, ports, and intermodal environments. Forklift operators and distribution managers need to keep products moving in and out all day long, without compromise, with an advanced mobile solution that can keep up with your inventory replenishment and outgoing orders, your workforce, and your IT infrastructure. You need the Thor™ VM1A from Honeywell.
Built with many of the same easy-to-use, easy-to-maintain features of the popular Thor VM1 and CV41 models, the rugged, Android™-based Thor VM1A also offers all the advantages of Honeywell's Mobility Edge™ platform – including the ability to accelerate provisioning, application certification, and deployment across the enterprise.
The Thor VM1A is upgradable from Android O to Android R, with extended security update support via Honeywell Sentinel to extend the product lifecycle and maximize return on investment. The device's advanced enterprise configuration and software support tools also simplify frequently repeated tasks such as unit setup and distribution of security and software updates.
Compact, ergonomic, and powerful, the Thor VM1A has numerous breakthrough features designed to maximize productivity, minimize visual obstructions, and reduce or eliminate downtime.
Built tough for challenging forklift environments, the Thor VM1A includes a powerful Qualcomm® 660 processor, 2x2 MIMO WLAN connectivity, integrated keyboard, and large 8-inch touchscreen readable both indoors and out, keeping critical data accessible right from the forklift driver's seat. An optional screen defroster is available for use in cold storage and freezer environments.
The Smart Dock feature enables users to quickly shift computers between vehicles, while the ignition control feature offers adjustable power management settings to save startup time and extend vehicle battery life, maximizing efficiencies and uptime.
The field-replaceable front panel allows enterprises to minimize investments in spare parts by substituting low-cost spare front panels for complete spare computers. In-house staff can quickly and easily swap out the front panel, fixing typical touchscreen or keyboard failures and rapidly returning units to service, saving valuable time and maintenance costs and lowering total cost of ownership.
Features
Built on Mobility Edge -

 

The Mobility Edge hardware platform and enterprise lifecycle tools drive an integrated, repeatable, scalable approach for accelerated development, application certification, deployment, and lifecycle management.
Forward-Compatible. Future-Proof -

 

Future-proof investment protection with support from Android O through Android R plus security updates available for up to two years to maximize ROI and provide a lower overall TCO.
Field-Replaceable Front Panel -

 

Reduce maintenance costs by enabling in-house staff to repair the most common touchscreen and keyboard issues, rather than send the whole computer in for service.
Smart Dock for Easy Mounting and Removal -

 

The Smart Dock feature enables mounting and removal in seconds without touching cabling, allowing computers to be quickly and easily shifted between vehicles as workloads change.
Built for All-Day Productivity -

 

Fast processor, WLAN connectivity, integrated keyboard, and large 8-inch touchscreen keeps data readily accessible, while the ignition control feature helps manage power, saving startup time and extending vehicle battery life.
Cold Storage Option -

 

Built to withstand extreme temperatures and rugged conditions, both indoors and out. Available with optional screen defroster for use in cold storage and freezer environments.