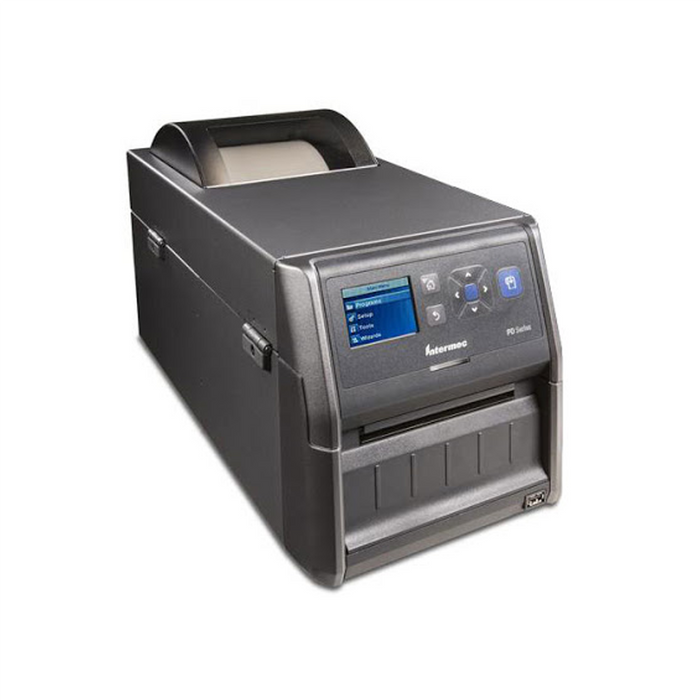 Intermec EasyCoder PD43 Printer (PD43A031NA010201)
SKU: PD43A031NA010201
Honeywell, PD43, Thermal Transfer Tabletop Printer, 203 DPI, LCD Display, USB Device/USB Host/Ethernet/RFID UHF, Includes: US Cord
Intermec EasyCoder PD43 Printer

Product Overview
The PD43 family of light industrial thermal printers incorporates the latest printing innovations into a compact and affordable package. Ideal for tight spaces, shallow countertops, and pull-out cabinets, the PD series was designed to deliver no-compromise printing performance in the smallest possible footprint.
Suited for the distribution center and warehouse, as well as airline passenger service, the PD43 upholds the PD series' long tradition of reliable performance. An all-metal chassis, strong cast-aluminum print mechanism, and tool-free printhead and roller replacement help minimize downtime and maintenance needs. With a variety of door options, the PD43 can support a wide range of media - including ink-in and ink-out ribbons with half-inch or one-inch core sizes - making it possible to maximize the time between media resupply. Fast time-to-label and print speed up to 200 mm/s (8 ips) ensure PD43 can scale with the changing needs of dynamic operations.
The PD43 takes industrial printing to a new level of simplicity, with a color graphic display that makes it easier to set up, configure and fine-tune settings without the need for a host computer. In fact, with Smart Printing capabilities, the PD43 can run apps right inside the printer - eliminating the need for a connected PC entirely.
Supporting ZSim2, the PD43 features our fastest and most comprehensive ZPL-II  printer emulation, along with ESim, DSim, IPL and Direct Protocol support. This means that upgrading to a PD43, from a legacy Intermec printer or another printer brand, is made easy.
Add Honeywell's Medallion Complete Service Plan to ensure the highest levels of productivity, resource optimization, and uptime. For total protection, on-site support and preventative maintenance options are available.
Features
Incredibly Compact:

 

Small footprint for installation into compact tabletops and pull-out cabinets.
Built Strong:

 

Rugged metal chassis and print mechanisms provide investment protection.
Easy to Use:

 

Intuitive, ten-language color display or icon interface simplifies setup and maintenance.
Built-In Command Languages:

 

Fast, friendly and complete printer emulation - including ZSim2, our most comprehensive ZPL-II  emulation ever - makes upgrading from other printer brands easy.
Smart Printer:

 

Run apps right inside the printer, control peripherals, and eliminate the need for a connected PC, using either C# for Printers or Fingerprint.
Maintenance Made Easy:

 

Completely tool-free printhead and platen roller replacement.
Broad Media Compatibility:

 

Supports half- and one-inch ribbon cores, ink-in or ink-out.
Co-Engineered Media:

 

Extensively tested with Intermec co-engineered media products, ensuring optimized performance. Compatible with Honeywell's broad range of media products.
Available Accessories:

 

Customize with a wide range of available accessories such as a Wi-Fi/Bluetooth module and cutter.