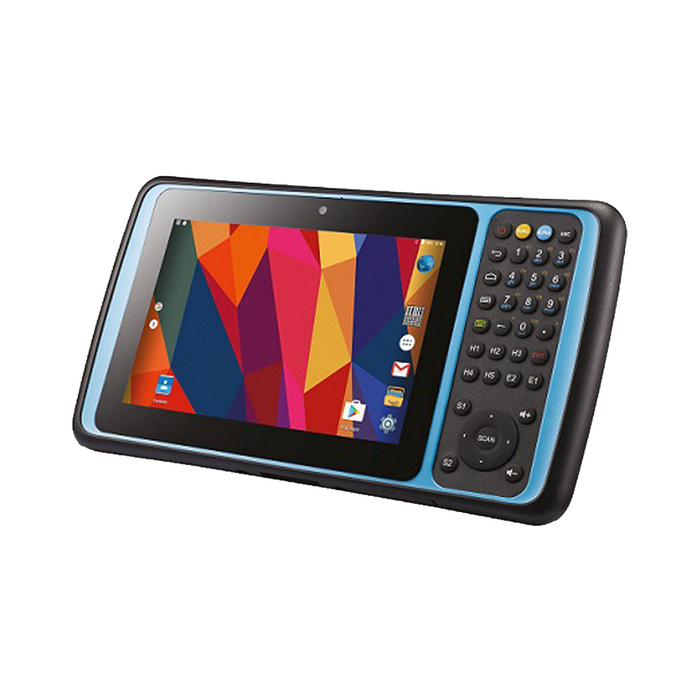 Unitech TB128 (TB128-4A6FUMDG)
SKU: TB128-4A6FUMDG
Unitech, Tablet, TB128, 7 Inch Screen, 2D Imager, Android 6.0, UHF, Camera, GPS, Bluetooth, WIFI, Includes: Battery And Power Adapter
Unitech TB128

Rugged 7" Tablet (Android)
TB128 - The tablet that does it all.
The TB128 rugged Android tablet places the easy functionality of consumer-grade tablets in a business-quality package. Our new tablet is built from the ground up to be tough but light, powerful yet simple to operate. It's a durable tablet packed with the features you need to streamline your busy and growing operation. Its crystal-clear touch screen, aggressive barcode scanner, and ergonomic, programmable keyboard work together for seamless data entry.
Powerful Android OS
Experience Android at its most functional. The TB128 runs multiple applications quickly and efficiently–key stock and inventory information is just a swipe away. The familiar interface ensures that your team will be able to unlock its full potential with only minimal training.
Versatile Data Collection
Scan, swipe or type your data into this powerful machine. The TB128 features an integrated keyboard and your choice of 1D or 2D barcode scanner or MSR reader.
Extreme Durability
Falls, spills, vibrations, extreme temperatures–the TB128 is a true indoor/outdoor workhorse. The scratch and shatter-resistant Gorilla Glass III screen can take falls of up to 4 feet face-first to dramatically reduce the cost of repairs and replacements.
Main Features:
Android 6.0
7" Gorilla Glass III sunlight-readable touch screen
Programmable keyboard (37 keys)
Integrated 1D or 2D barcode scanner and camera
Rugged: IP65, withstands 4-foot falls to concrete
Vibration and shock tested