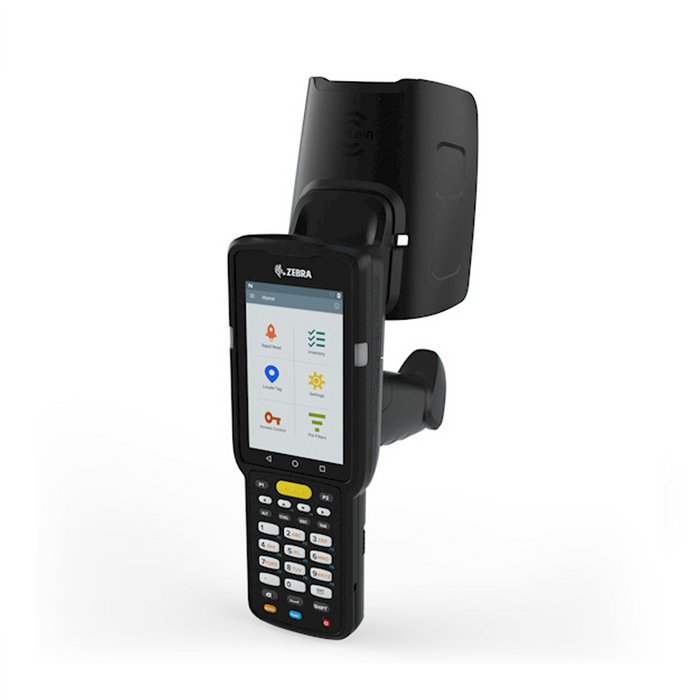 Zebra MC3390R (MC339R-GE2HG4US)
SKU: MC339R-GE2HG4US
Zebra, MC3390R, UHF RFID, Linear Antenna, WLAN 802.11 A/B/G/N/AC, Extended Range 1D/2D Imager (SE4850), 29 Key, 2X Battery, Android GMS, 4GB RAM / 32GB ROM, FCC Bands
Zebra MC3390R Integrated Long-Range UHF RFID Reader

BEST-IN-CLASS RFID READ RANGE WITH A POWERFUL ANDROID PLATFORM
In the warehouse, on the loading dock, or in the storeroom, you need to know what you have and where you have it. The MC3390R long-range RFID reader brings a new level of efficiency and accuracy to inventory management, order fulfillment, cross-docking and more. With Zebra's signature rugged design, the MC3390R is built for your semi-industrial environments — yet is lightweight with the right ergonomics for all-day comfort. The integrated long-range antenna delivers best-in-class RFID read range and higher throughput, so inventory counts can be accomplished more quickly and accurately. Workers can read both RFID tags and barcodes with point and shoot simplicity — including long-range barcode capture. And you can create intuitive Android applications that use the MC3390R's powerful computing platform, large touchscreen, and physical keypad. The MC3390R — the next evolution in long-range handheld RFID readers.
Our EMDK simplifies enterprise application design for faster, more cost-effective development cycles, while our RFID SDK for Xamarin allows you to use RFID apps you've developed for other Zebra devices on the MC3390R.
Rugged and ready to work
The MC3390R offers a 5 ft./1.5 m drop specification and with IP54 sealing, it can handle splashing liquid and dust. The Corning Gorilla Glass touch panel and imager window bring maximum scratch-resistance and shatter- proofing to two of the most vulnerable device features. The result? Workers can expect reliable operation despite the inevitable drops and spills.
Unparalleled data capture performance and flexibility
The integrated long-range antenna can capture RFID tags more than 60 ft./18.2 m away — 200% farther than the next leading competitor. This reliable, long-range RFID performance enables more frequent and more accurate inventory-count operation, so you can better manage your on-the-floor, backroom, and distribution inventory.
Zebra's high-performance ASIC radio technology provides superior sensitivity and greater read accuracy, delivering a read rate that is more than 25% faster and over 40% more accurate* than other devices in this class.
Workers don't need different devices to capture RFID tags and barcodes — the MC3390R can capture it all. Choose between a mid-range scan engine or the extra long-range scan engine that can capture barcodes from 3 in./7.62 cm to as far as 70 ft./12.4 m away. Both options offer Zebra's advanced scanning technology for lightning-fast capture of 1D and 2D barcodes, regardless of condition.
Low TCO with flexible development tools
If you are using other Zebra RFID handheld readers across your supply chain, you can streamline RFID application development with a single RFID software development kit. There's no need to learn a different app development framework or rewrite an application — use the same RFID SDK for the MC3390R, MC3330R, RFD2000 and RFD8500 RFID Sled.
Xamarin's cross-development platform lets developers use their C# skills and tools to develop fast, beautiful apps for Android devices. And with Zebra's EMDK and RFID SDK for Xamarin, it's easy to incorporate all the advanced enterprise features of the MC3390R into your Xamarin apps.