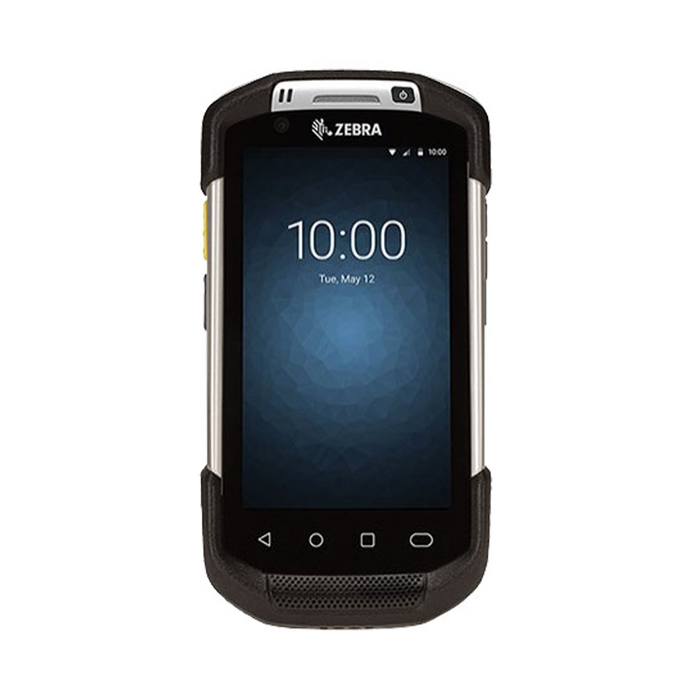 Zebra TC77 (TC77HL-7ME24BG-NA)
SKU: TC77HL-7ME24BG-NA
Zebra, TC77, WWAN & WLAN, 2D SE4750 Imager, 5MP Front Camera, 13MP Rear Camera, Android, Sim Lock, 4GB RAM/32GB Flash, 4620 MAH Battery, 2 SIM, 1 Micro SD, GMS, North America (US, Canada, PR)
Zebra TC77 Mobile Computer
Need to capture multiple barcodes on a single label or data on a form, such as checkboxes, text fields, signatures and more? You can do it all with the press of a single button with Zebra's SimulScan, a no-cost pre-installed Mobility DNA application. 
Full shift power your workers can count on
The PowerPrecision+ high capacity battery delivers up to an impressive 15 hours of power 1 — plenty for the longest shift. With Warm Swap mode, swapping batteries is fast and easy — there's no need to turn off the device or close active apps. And with fast charging, batteries are fully charged and ready to go in record time.
Complete cellular network flexibility with single device simplicity
No matter where your workers are, you can give them dependable cellular service. Simultaneous support for two carriers is ideal for workers that travel to areas better served by different carriers. And aggregated carrier support delivers faster upload and download speeds and provides first responders with access to public safety channels for mission-critical communications.
Support for the latest WiFi enhancement improves WiFi range and speed— with less power
Provide your users with faster and more reliable WiFi connections with 2x2 Multiple-User Multiple Input Multiple Output (MU-MIMO) technology. Your access points can now communicate with multiple devices simultaneously via pinpoint beamforming, boosting WiFi network capacity, speed and range. And processing is shifted from the mobile device to the access point, extending battery cycle time.