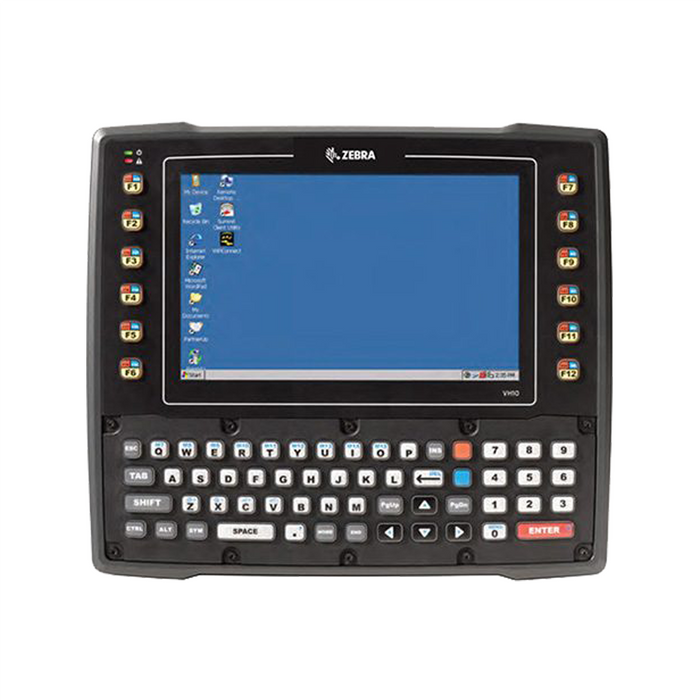 Zebra VH10 (VH10110110110A00)
SKU: VH10110110110A00
Zebra, VH10, Vehicle Mount Computer, Standard Temperature, English, QWERTY, Internal 12-48 VDC, UPS Installed, 802.11 A/B/G/N, Integrated 2.4 + 5 GHZ
Zebra VH10

PRODUCTIVITY. INGENIOUSLY ENGINEERED.
Every day, the workers in your forklifts and other material handling equipment are under pressure to move more product in, through and out of the warehouse to meet customer demands. It will take a new level of efficiency. It will take a new level of accuracy. It will take the VH10. The VH10 is built to provide the real-time information this workforce needs to get the job done fast and right - in your warehouse aisles, out in the yard or in a freezer. You get productivity, ingeniously engineered - with all the features you need for truly flawless fulfillment in your most demanding environments.
Freezer-ready for the coldest supply chain
You get true frost and condensation free operation with touchscreen, board and battery heaters, plus smart temperature sensors that automatically control heater and heating speed.
Fits in virtually any material handling vehicle
Multiple mounting options, including standard RAM mounts and a 10-second quick release mount, plus a compact size make mounting easy, even in the smallest vehicles.
Flexible wireless connectivity options
Only Zebra offers support for Wi-Fi and Narrowband, bringing you the best of both worlds. Support for 802.11a/b/g/n Wi-Fi provides compatibility with virtually any wireless LAN and plenty of bandwidth to support the modern graphical user interfaces of today's demanding applications. Narrowband support provides robust, affordable and secure wireless connectivity for simple data transactions in expansive outdoor areas such as seaports, rail yards, airports and expansive outdoor yards in manufacturing plants - regardless of the presence of obstacles that typically create coverage holes, such as metal containers, liquids or even other 2.4 GHz wireless networks.
Easily customize to meet your specific business needs
Add a Zebra corded or cordless scanner for fast and accurate capture of any bar code - even codes that are dirty or damaged. Add a push-to-talk microphone to enable instant voice communications with vehicle operators.
Maximize uptime and minimize TCO with field serviceability
Replace the two elements that are most vulnerable to damage in minutes, right in your facility - the keyboard and touchscreen - no need to send to a service depot.
Freezer-ready for the coldest supply chain
With the VH10f you get true frost and condensation free operation in freezers with touchscreen and board heaters, smart temperature sensors that automatically control the heaters and heating speed, an elastomeric keyboard that works despite icing and more.
Backwards compatibility for cost-effective upgrades
Use the same mounts, accessories and applications you have today for your prior Zebra vehicle mount mobile computers, allowing you to cost-consciously upgrade to the latest technologies to improve productivity, customer service and satisfaction.