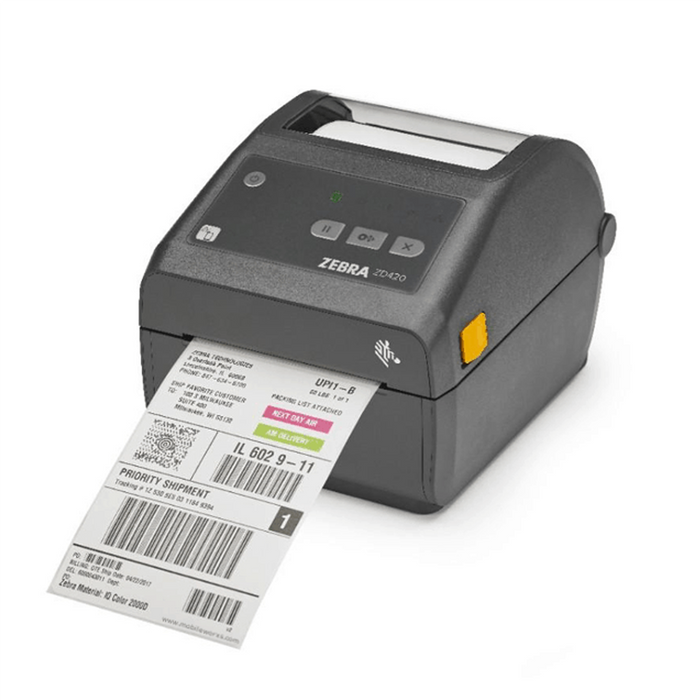 Zebra ZD420 Printer (ZD4AH43-301E00EZ)
SKU: ZD42H43-T01E00EZ
Thermal Transfer Desktop Healthcare Printer; 4-Inch Max Print Width, 300 DPI With USB, USB Host, Bluetooth Low Energy, Modular Connectivity Slot-Ethernet, Includes: US Power Cord
Zebra ZD420 HC

If you need fast 4-inch thermal printers that are easy to use, easy to deploy and easy to manage, then choose the ZD420 Healthcare. Daily operation couldn't be simpler, thanks to a new ribbon cartridge with more status icons. With virtually every modern wired and wireless connectivity option, and support for many printer languages, deployment is always fast and easy.
Add new connectivity and media handling options whenever you need them, right on site. And, cloud-based Link-OS drives management time down and return on investment up. Use the ZD420 Healthcare thermal printers when ease of use, flexibility and management simplicity matter.
Groundbreaking ease of use
The ZD420 thermal printers are loaded with features for easy use. They are the only thermal printers to offer a ribbon cartridge for fool-proof and split-second installation. The ZD420 also lets you know when the ribbon needs replacing. And, five intuitive status icons make it easy for your workers to see, at a glance, what is needed to keep your printer up, running and available.
Add new options easily while on site
If you need new communication or media handling options in the future, no problem. Add serial or ethernet connectivity, plus a peeler or a cutter, right on site - without taking the ZD420 thermal printers out of service. The result? Maximum functionality, uptime, value and return on investment.
Virtually Every Modern Connectivity Option
Support for all of today's modern connectivity options makes the ZD420 an easy fit into your technology environment now, and in the future. The ZD420 thermal printers come standard with USB, auto-sensing serial or 10/100 Ethernet. The very latest wireless connectivity is optional: Wi-Fi certified 802.11ac WLAN and Bluetooth 4.1. And you can support wired and wireless users simultaneously.